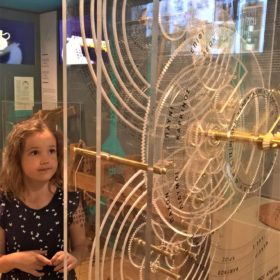 Calculating Mechanisms in Antiquity
From the "calculator" of Salamina, to the "computer of Antikythera"
While in Athens with kids, discover the calculating mechanisms in Antiquity! The Greek (acrophonic) abacus, a special sign that allows the user to quickly place numbers, of any size, using the Herodian numbering system, and to add, subtract, multiply and divide between these numbers.
Enjoy this family friendly activity and practice, compete and win a special gift. Turn the lever, of a large-scale Antikythera Mechanism, and unlock its "secrets". Transfer to the past or future and find the position of the sun in the zodiac cycle, the phase and position of the moon, the month in the lunar calendar, the date and hour of the eclipse of the sun and moon, the dates of the most important games of antiquity, etc.
Build your own functional part of the Antikythera Mechanism from metal and plexi glass, and use it as a decoration for your favorite place!
As a gift you will receive a functional cardboard Greek (acrophonic) abacus!
How to book
This private family activity is ideal for families with children from 7 years old. It operates throughout the year and it cannot be booked independently, but as part of a multi-day tailormade trip in Greece.
Please contact your MAMAKITA family travel specialist to tailor your trip to your family needs, budget and age of kids by filling in this form. We strongly advise you to make your request at least one month before the starting date of your trip, and ideally 3 months in advance, if your travel dates include July and August, the peak months for family vacations in Greece.