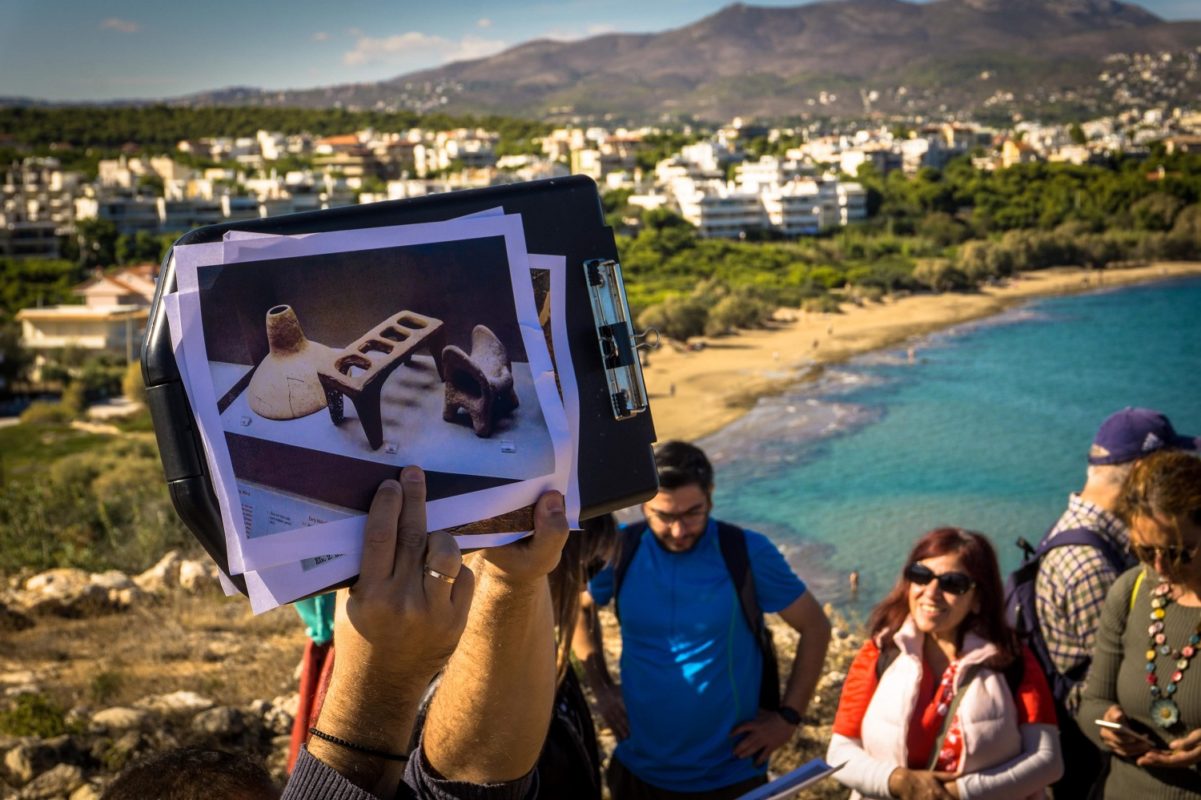 Half-day eco tour in Rafina
A unique natural and historical family friendly half-day tour in Rafina around the sandy beach of Marikes, about 30 minutes away far from the Athens city centre
Rafina is an area surrounded by a unique nature, hills and beaches, with high ecological value and big history. Among the Mediterranean coastal flora, we will enjoy a panoramic view from an acropolis built in 3000B.C. In a hill covered by a pine forest we will visit the German Fortress from WW2. In a sandy beach we will experience, through drama games, the creation and evolution of a sensitive ecosystem. Join this walking tour and in 3 different routes discover natural and historical hidden sites of Attica, Greece.
All routes below can be also offered separately.
1st Route – Ochiro hill – The German Fortress from WW2
In the hill of Panagitsa, Germans during the 2nd WW built trenches, canopies, machine gun bases, and underground concrete bunkers. We will live the experience of an open "museum" as we walk among the well reserved historical constructions.
Highlight: Visit the underground concrete bunker 18m under feet.
Duration: 1 hour
Level requirements: Basic Physical Condition, Age 7+
2nd Route – Marikes beach
The beach of "Marikes" is a rare ecosystem of Attica Region with high ecological value. Walking on the 700m beach we will meet the protected seagrass Posidonia oceanica and a geological formation named beachrock. We will explore the sand dunes and learn about their unique flora and we will have the opportunity to participate in the "Puzzle of nature"; a drama game specially designed for kids, as an experiential outdoor learning activity with the natural elements of the beach. Finally, we will swim in crystal clear blue waters.
Highlight: Sand dunes more than 2m height, drama games on the beach
Duration: 1 1/2 hours
Level requirements: Age 4+
3rd Route – The cape of Crocodile – Askitario acropolis
"Askitario" is a Bronze Age acropolis (3000 B.C.) located in the triangle shaped hill of Crocodile. From one side there is a cliffy, rocky, wild coast and from the other side the big sandy beach of Marikes. Walking among the characteristic Mediterranean coastal flora we will enjoy the view, learn about this important ecosystem and observe the human presence from the ancient years to present.
Highlight: The magnificent view from the hill
Duration: 45'
Period of operation: Throughout the year depending on weather conditions
Level requirements: Age 7+
How to book
This family tour can be customized according to the children's ages. It operates throughout the year and it cannot be booked independently, but as part of a multi-day tailormade trip in Greece.
Please contact your MAMAKITA family travel specialist to tailor your trip to your family needs, budget and age of kids by filling in this form. We strongly advise you to make your request at least one month before the starting date of your trip, and ideally 3 months in advance, if your travel dates include July and August, the peak months for family vacations in Greece.