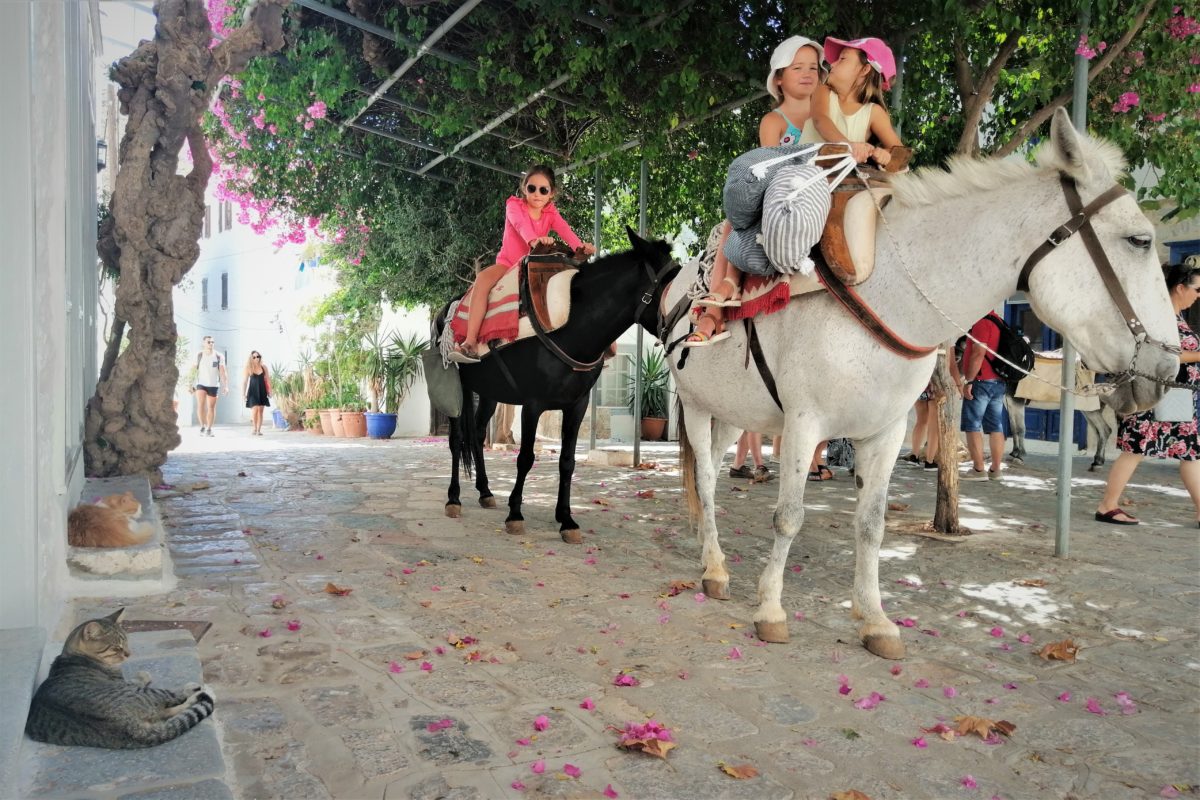 Hydra Island for Kids
Private Tailor-Made Full Day Tour Ideal for Families With Babies, Toddlers and Kids
Are you fond of visiting Hydra but willing to travel at your own pace with your kids?
A car-free island is always the best place to be with kids! With a cosmopolitan air, its unique architecture, its glorious history from the years of the Greek War of Independence and… its donkeys, Hydra is fairly placed among the most popular Greek islands and top family destinations all year round.
You can stroll around the -literally "endless"- pedestrian streets, browse their beautiful and stylish little shops and enjoy your breakfast or afternoon drink at a café or bar with a beautiful view of the sea. You can combine learning with pleasure, thanks to Hydra's interesting museums, such as the Historical Archive-Museum, the Ecclesiastical-Byzantine Museum, and the mansions that have been converted into museums, such as the Lazaros Kountouriotis Historical Mansion and the Pavlos Kountouriotis Mansion that housed the Greek admiral and naval hero during the Balkan Wars.
Hydra's bays are not family-friendly in the narrow sense of the term. The one and only sandy beach in Hydra is Mandraki, the island's old port whose entrance was guarded by two castles, the remnants of which remain to this day. A bit outside the port, you can swim in the deep waters of Spilia or Hydronetta, two rocky bays ideal for diving. An organized pebble beach is Kamini, next to another picturesque harbor with fishing boats.
Customize your visit to Hydra island according to the needs of your family and desire. Having as minimum standard services a local tour leader and all private road & sea transfers from Argolis, decide the duration of your visit, the selected tours, activities and free time in the island.
Enjoy a walking tour at the highlights of Hydra by a local guide; book a relaxing or more adventurous horse-riding activity; book on spot a sea taxi to take you to isolated beaches and swim in crystal clear waters.
For the horse riding: Children under 16 years old must be accompanied by an adult; Flipflops or strappy sandals are not allowed; Min. 2 pax per booking.
How to book
This activity is ideal for families with children of all ages. It operates from May to October and it cannot be booked independently, but as part of a multi-day tailormade trip in the Peloponnese.
Please contact your MAMAKITA family travel specialist to tailor your trip to your family needs, budget and age of kids by filling in this form. We strongly advise you to make your request at least one month before the starting date of your trip, and ideally 3 months in advance, if your travel dates include July and August, the peak months for family vacations in Greece.