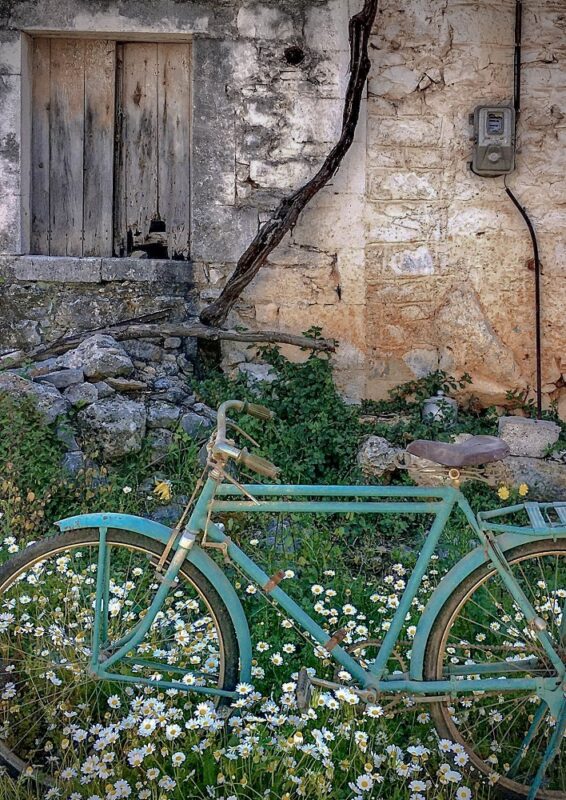 Mani Bike Tour for Families
Sunset in West Mani by Bike (private)
Are you looking for some inspiration for your next sunset-spotting adventure? Book this West Mani bike tour for families and watch Mother Nature put on her nightly display, from Stoupa to Trahila and back. As the sun drops into the sea, watch daylight turn to dusk from the sienna rocks of the west Mani coast and stand on the sandy beach of Pantazi for a quick dip, as the warm sunset sun illuminates the coastline.
About the itinerary, on your ride you'll pedal coast to coast, in a bike road and a low traffic road, three of the west Mani's original fishing villages -Agios Nikolaos, Agios Dimitrios and Trahila – having Stoupa as the starting and ending point.
What is included: Professional guided service; Helmets; Fitness bikes, trekking bikes or e-bikes (for all ages); baby carrier (if needed)
Why Does MAMAKITA Recommend this bike tour to families?
A coast to coast of 26 km with a spectacular scenery
Cycling in a truly unique landscape and atmosphere
Low traffic and bike road make this a safe ride
This is a great trip for families
Experienced and trusted tour operator
Is it right for me?
This is a great activity for a holiday for those who want to have a warming up cycling experience but also for those who love to cycle. The difficulty of the ride is quite manageable, so you don't need to be especially fit. No cycling experience is required, just know how to cycle.
This is a great tour for families and small groups or couples.
If you're not sure about your level of fitness and suitability to this trip, just get in touch and we'll be happy to talk it through with you
Must have with: Bottle of water – 1 litter; Hat; Sun cream (especially during summer months); Hiking shoes (low or high) or trainers, hiking sandals. Open shoes like lifestyle sandals or flip-flops are unsuitable; One day hiking backpack 20lt (if available); A spare T-shirt; A wind stopper; Bathing suite; towel
How to book
This 3-hour private tour is ideal for families with children from 8 years old and it operates throughout the year (winter and spring are adjusting on the sunset time and also depending on the weather conditions but it is manageable). It cannot be booked independently, but as part of a multi-day tailormade trip in Mani.
Please contact your MAMAKITA family travel specialist to tailor your trip to your family needs, budget and age of kids by filling in this form. We strongly advise you to make your request at least one month before the starting date of your trip, and ideally 3 months in advance, if your travel dates include July and August, the peak months for family vacations in Greece.