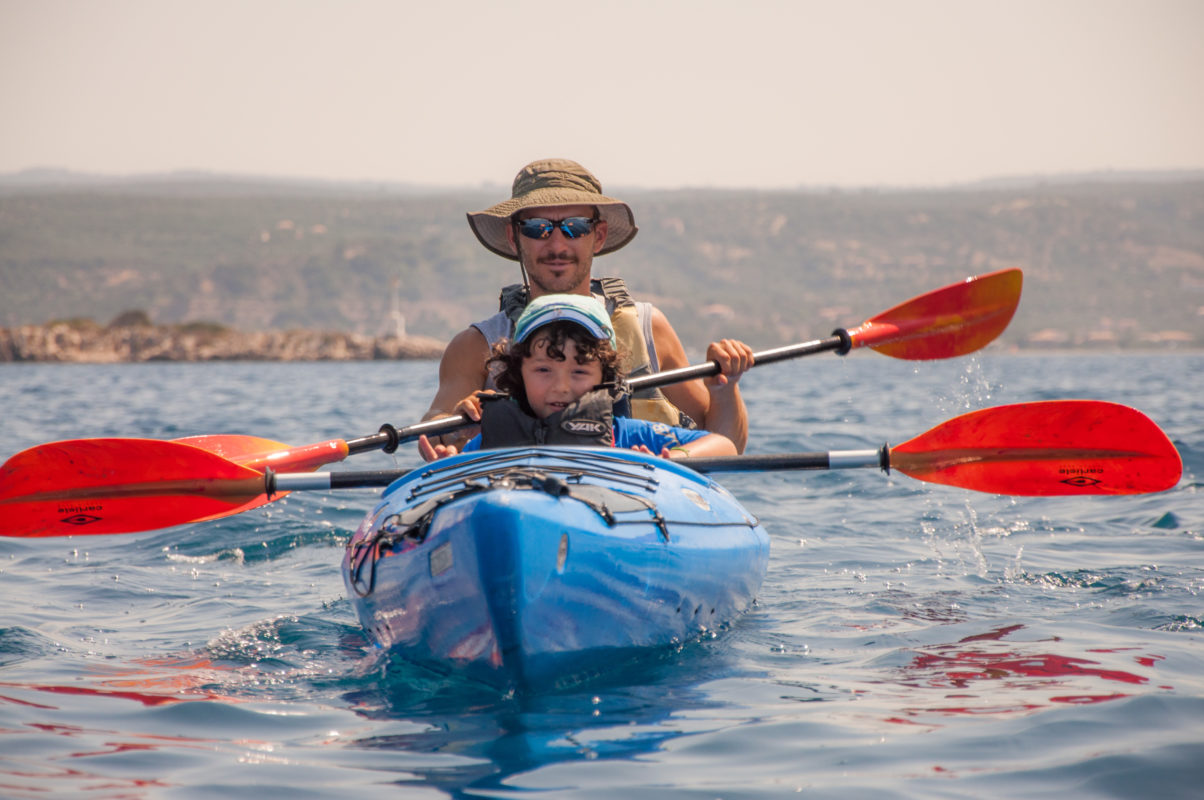 Sea kayaking with kids in Pylos
Family exploration of the Gulf of Navarino by sea
Navarino bay is a natural harbor and an ideal spot for sea kayaking trips. Across Gialova and Pylos the island of Sfaktiria stands as a wave breaker, protecting the bay from winds of Ionian Sea forming an idyllic landscape covered with a veil of tranquility. A landscape of incredible natural beauty, with impressive rock formations, sea caves, warm, crystal clear, waters and golden sandy beaches where sea turtles often return to lay their eggs. Two medieval castles guard the bay, recalling the famous naval battle of Navarino, which was the most decisive event during the Greek Revolution. It was also the last major naval battle in history fought entirely with sailing ships. Enjoy this sea kayaking with kids in Pylos and you will remember this experience forever!
The trip begins from the marina of Pylos. Paddling by the town of Pylos and the castle of Niokastro you will head towards the Tsihli Baba, an imposing monolithic islet with an impressive rock arch formed at its northern tip. In Sfaktiria, you will explore beautiful rock formations and sea caves, relax on a hidden cove with a deserted beach and hopefully spot some migrant birds sea turtles or seals. If the waters are clear and transparent, you will be able to see some of the sailing ships that sunk during the Battle of Navarino. The next stop will be the one and only accessible from the sea beach of the island of Sfaktiria, where there will be enough time to swim, snorkel, sunbathe, rest and enjoy a picnic with freshly baked bread organic, garden grown fruits and vegetables, homemade olive oil, and cheese.
How to book
This half-day private family friendly activity is ideal for families with kids from 4 years old (knowledge of swimming required). It operates all year round depending on weather conditions. It cannot be booked independently, but as part of a multi-day tailormade trip in Kalamata, Pylos & the Gulf of Navarino and the wider region of Messenia.
Please contact your MAMAKITA family travel specialist to tailor your trip to your family needs, budget and age of kids by filling in this form. We strongly advise you to make your request at least one month before the starting date of your trip, and ideally 3 months in advance, if your travel dates include July and August, the peak months for family vacations in Greece.